My automobile is my source of pride and joy. It is far more than simply a form of transportation; it is a mirror of my personality and aesthetic. I prefer to keep it looking its best, and there is nothing better than feeling a sleek finish and admiring the radiance of a car that has recently been detailed. Unless one is willing to expend a huge sum of money to employ a professional service for car detailing, one will need to learn the craft of DIY car detailing.
I have had experience detailing my car for a long time, and I am eager to pass along my tips and tricks for attaining a professional finish. Through this blog, I will provide advice for every step needed for correctly executing the job: from preparing one's car for detailing, to cleaning exterior surfaces, polishing and waxing, interior detailing, and attending to the finer touches.
My vehicle has never looked better and I am eager to divulge the secrets of car detailing. So, let us begin!
Preparing Your Car for Detailing
Car detailing is the process of completely cleansing and restoring your vehicle to its ideal appearance. To do this, one must start with the right preparation. Everyone familiar with detailing a car knows that the process is a gradual one and requires several careful steps in order to keep the car clean and adequately maintained.
Prior to beginning the detailing process, it is hugely important that all the items needed to get the job done are collected, such as a vacuum cleaner, car wash detergent, detailing clay, polishing compound and wax. It is important to ensure that these materials are suitable for the specific car model you are detailing, as some materials are better suited for certain finishes.
Before going into detail, the interior should be addressed first. Everything should be taken out of the car, such as carpets and seats, and the interior should be vacuumed from top to bottom. All surfaces, including the dashboard and instrument panel, should be dusted to make sure they are free of dust. This yields a clean surface on which your detailing products can be used.
The next step is to properly wash the outside of the vehicle. Utilizing a hose and a car wash detergent of your choice, or even a pressure washer if available, rinse the car carefully. Wipe down the car with a microfiber cloth to dry off any water that is still on the car's surface.
Once your car is properly prepared, the more intensive processes, such as cleaning external surfaces, applying wax and polishing, and cleaning the wheels, can be completed. By following these preparatory stages before you start with car detailing, you will have a polished, glossy, and professional-looking finish.
Cleaning Exterior Surfaces
DIY car detailing is not complete without giving attention to the exterior. It is typically the first feature noticed and therefore, proper cleaning of the car's exterior is a fundamental part of preserving its condition and making it look amazing. To achieve success, one must start with the appropriate supplies. Car owners should invest in an effective car cleaning solution, microfiber towels and several brushes.
Begin by applying the car cleaning solution to the vehicle. Make sure to take your time with this process and make sure the entire car is adequately covered. Rinse the solution off using a hose and then dry the car off using the microfiber towels. If needed, utilize a freshly clean brush to scrub away any dirt or grime that is still present.
Going beyond the basics when it comes to exterior car detailing is something that all car owners should think about. Applying a layer of wax provides an extra protective coating and contributes to the vehicle's shine. The car detailing process should be given the length of time it requires, as the effort is certainly worth it. Waxing your car will lead to decreased dirt buildup, less scratching and an overall professional finish.
Despite the type of car being detailed, having the appropriate materials and abiding by the necessary time will be of great benefit. Taking the extra step to thoroughly clean and wax a car's exterior can result in a visually stunning look, suitable for any car show.
Polishing and waxing are the foundation of any car detailing regimen. What better way to guarantee a professional finish and a prolonged life-span for a car than with some additional love and care?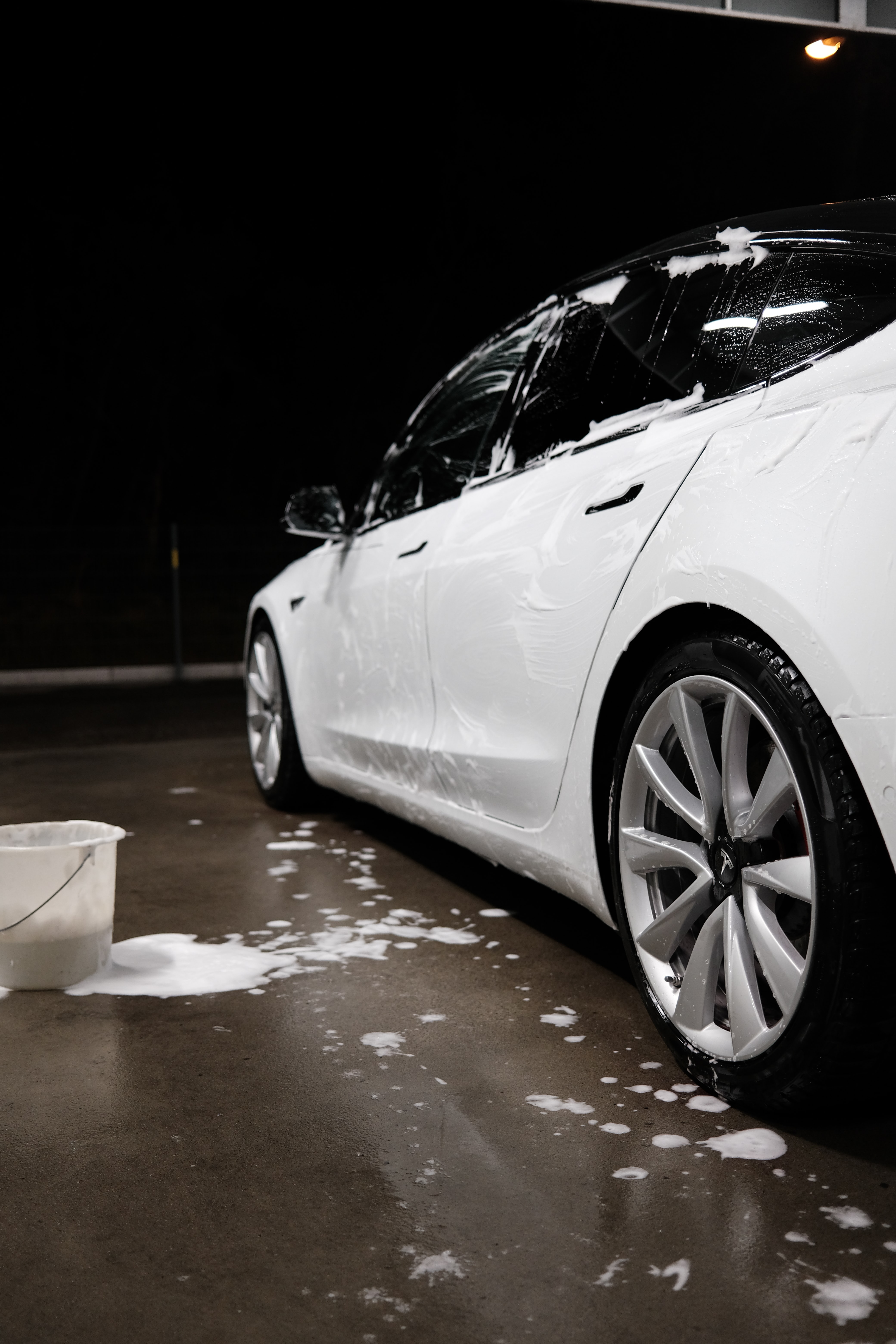 Image Credit: 9OvGzW8xzis
Polishing and Waxing
When car detailing, one of the most imperative steps is to polish and wax the vehicle's external surfaces. This is a great method to provide a protective barrier to your car and make the body shine brilliantly and look like new. To start the procedure, it is essential to have a soft cloth and appropriate products for the task. For cars with clear coat finishes, it is beneficial to employ a mild rubbing compound with a soft cloth, such as microfiber. Begin by rubbing the compound in a circular motion across the entire exterior of the car and then utilize a buffer or detailer to circulate the product consistently. Once the area is sanitized, make sure to apply a wax developed particularly for car detailing. Ensure that the wax is distributed uniformly across the entire surface in a steady motion and then allow it to dry for roughly 15 minutes. Finally, utilize a soft cloth to eliminate the wax in a back and forth motion and give your car a showroom quality finish.
Interior detailing is another crucial step for car detailing and it concentrates more on attending to the car's interior condition. This may include deep-cleaning carpets, leather surfaces, and upholstery. Make certain to research the materials and products that are most suitable for the specific job before beginning detailing your car.
Interior Detailing
Car detailing professionals understand the significance of making sure that your car sparkles from the inside out. Monitoring the interior of the car can be of assistance in preserving it and keeping it looking great for years to come. Initially, the primary task involved with interior detailing is basic vacuuming. This ought to be done routinely and should not be a quick job. Vacuuming ought to be completed in cramped places, such as between car seats and dashboard cup holders, to eliminate dirt, food crumbs and other kinds of debris. Subsequently, the interior needs to be wiped down, preferably with a microfiber cloth. This ought to be done in areas such as the dashboard, windows, cup holders and any other plastic or vinyl surfaces. Finally, carpets and floor mats need to be shampooed and vacuumed to keep the interior of the car appearing and smelling fresh.
To give the interior of the car that showroom finish, a high gloss dressing should be given to any plastic surfaces. This will make the surfaces look clean and professional. Seat, vinyl and plastic conditioners should be employed on the seats and door panels to protect the surfaces from cracking over time. Ultimately, a carpet refresher or air freshener should be used to make the interior of the car smell nice.
Interior detailing can be extremely satisfying and can provide a car a professional finish. Following these tips can aid in keeping the interior of the car looking clean and fresh. Now, it is time to give the exterior of the car a professional finish.
Finishing Touches
Once you have completed the major detailing steps, it is time to give your car the appearance and feeling of being brand new. Finishing touches can help to make your car stand out and provide it with an additional advantage.
Begin by making your tires shine with a tire dressing or wheel wax. This will provide your tires with a pleasant shine and safeguard them from the elements. After that, you can use a trim dressing to restore dimmed trim pieces. This will aid in making your car appear more colorful.
Finally, you can use an interior protectant to preserve the interior of your car. This will help to reduce fading and cracking, as well as guard against UV rays.
These finishing touches will help to make your car look amazing and bring your car detailing project to a successful conclusion. Spending the time to carry out these extra steps will assist in making sure that your car looks and feels like new for a long time.
Sources:
https://popularcarwash.ca/hopkins-street
https://www.gregsautodetailing.ca/
https://www.polishedarmourauto.ca/