I have always held a strong interest in automobiles, and when I acquired my first car, I was eager to keep it looking in its prime state. After researching, I discovered that the most efficient way to keep my vehicle looking pristine was to detail it myself. Car detailing is a process which involves cleaning, polishing, waxing and sealing the car to revive its luster.
The initial step in my car detailing endeavor was preparing the car for the procedure. This entailed washing the car, cleaning the wheels and tires, and eliminating any traces of tar and bugs from the body. Furthermore, I vacuumed the interior, and wiped down the windows to form a suitable starting point.
Subsequently, I moved onto cleaning and polishing which involved specific cleaners and polish that removed any scratches, swirls, and oxidation on the paint. To my surprise, the paint had a completely different aspect after I was done.
I proceeded to detail the car's paint by applying a high-quality car wax to protect it against the elements. Additionally, I sealed the paint as well to ensure that the shine persisted.
In the end, I incorporated additional elements such as dressing the tires and trim, and detailing the interior to finish the job. It was definitely rewarding to observe my car looking as good as new after all my effort had been invested. With some perseverance, and the correct supplies, I successfully detailed my car and gave it the shine it deserved.
Preparing Your Car
Preparing your car for detailing is a fundamental step in ensuring your automobile will glitter. Ensuring your vehicle is as clean as feasible before embarking on the car detailing process is critical. Getting ready for the detailing process should begin with a comprehensive vacuuming, disposing of any residue from the floors, seats and other surfaces. Doing this helps to make space for a precise cleaning, using a car-safe cleaning solution. After vacuuming, all surfaces should be wiped down with a microfiber cloth, eliminating any dust or dirt that has been overlooked during the vacuuming process.
When concluding this task, it is advisable to take advantage of a clay bar for a deeper cleaning level. Clay bars are specifically designed to pick up oil, dirt and road grime from the paint on your car. Even though this can be a laborious and lengthy task, it is advantageous when seeing the alteration after it is finished.
Eventually, utilize a polish or pre-wax cleaner to bring back some of the shine, while getting ready for a wax or sealant. This will aid the wax to attach more successfully, leading to a professional and enhanced shine.
After the preparation is completed, it is time to progress to the following phase of car detailing – cleaning and polishing. Cleaning and polishing your car will bring the shine back and give you a great looking finish.
Cleaning and Polishing
Once the car detailing process begins, the first step is cleaning and polishing. In order to make your car come out sparkling, dirt and grime must be efficiently removed from all of its surfaces and crevices, interior and exterior. The assortment of cleaning products available for car detailing guarantee that, regardless of how dirty the car is, it will be restored to an unblemished state.
In the case of polishing, a car's paint job can suffer from the elements. A wax and polish mixture can bring back a car's initial glimmer and brilliance, while also shielding it from the weather and the sun's ultraviolet radiation. Numerous car detailing professionals will use a combination of waxes and polishes, to achieve the best results.
When car detailing, it is essential to bear in mind that cleaning and polishing are closely related. Just as polishing allows the car to shine, the washing of the car ensures that your wax and polish solutions will be able to securely adhere to the metal, creating a protective layer.
As you can see, cleaning and polishing are essential components of the car detailing process and it is vital that these steps are carried out correctly in order to make your car look its very best. Once these steps have been accomplished, the next step in car detailing is waxing and sealing. These steps are equally important in ensuring that your car shines as the previous steps and should not be disregarded.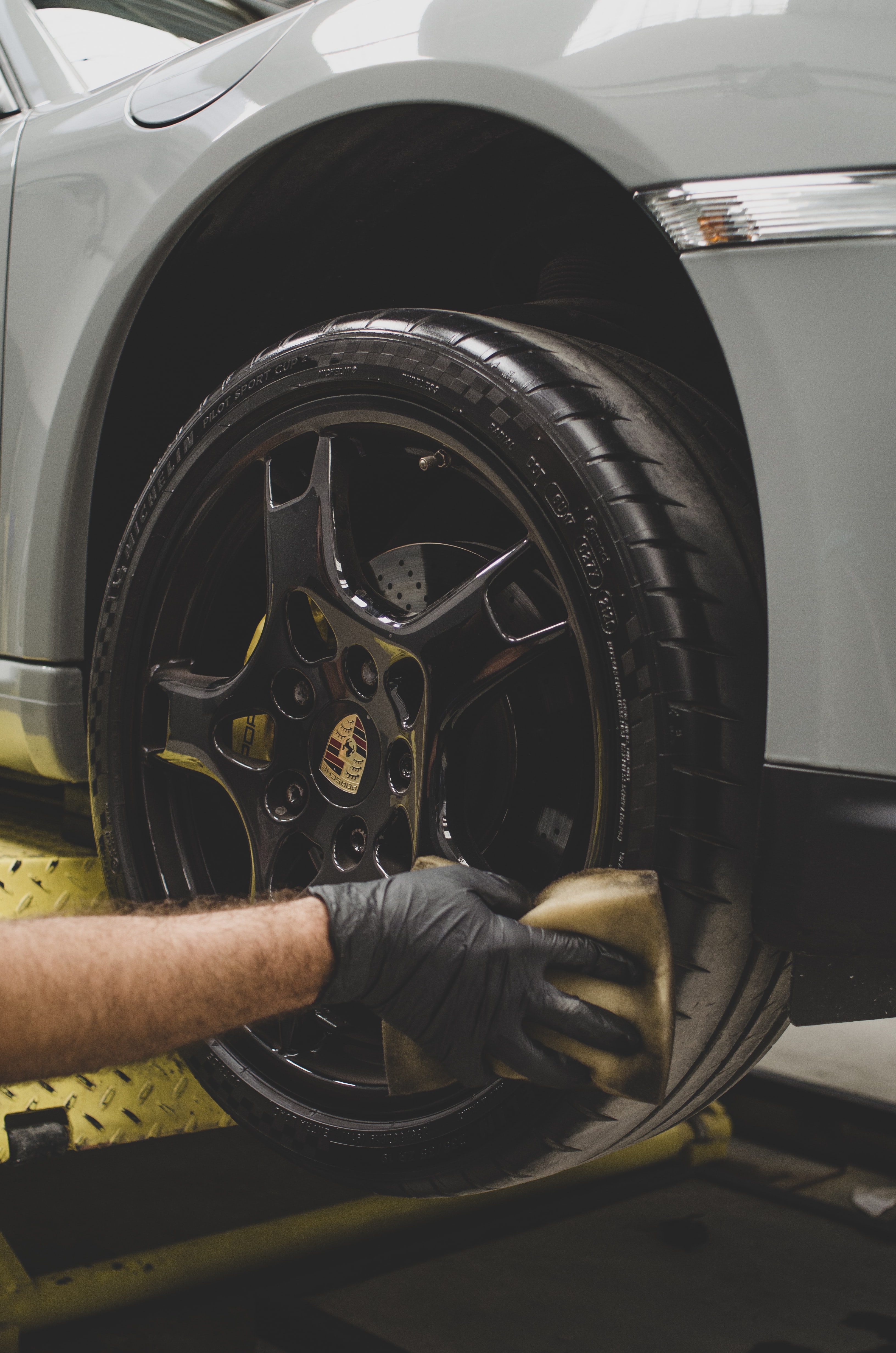 Image Credit: wKw7skleTIk
Waxing and Sealing
The completion of thorough car detailing includes waxing and sealing one's vehicle. This helps to protect the car from outside elements, avert fading and ensure it remains in pristine condition. A wax sealant may be a judicious investment, as waxing and sealing adds a protective layer over the paint.
To wax, start by washing the body with a car wash cleaner and then drying it with a gentle cloth or chamois. Following this, carefully apply car wax or sealant all over the car body and distribute it evenly. Let the wax dry for the recommended period, then take off with a clean, soft cloth. It is essential to wax both the inside and outside of the car for the ultimate detailing process.
Car detailing is an art form that ought to be given the correct focus, and waxing and sealing can give a personalized look to one's vehicle. Once the waxing and sealing process is done, the next step is to be sure to allot sufficient effort to the finishing touches. Investing effort in lending the vehicle's exterior a polish through waxing and sealing is a worthwhile endeavor.
Finishing Touches
Now that you have completed the three steps of car detailing, it is the moment to apply the final touches. The ideal approach to do this is to ensure your car looks as if it has just come from the showroom. To begin with, utilize a tire brush and tire cleaner to clean your tires and rims, which will help make them appear brand new. Subsequently, make use of a glass cleaner and a microfiber cloth to clean your windows and mirrors, making certain to get into every corner and crevice. Lastly, utilize a leather conditioner to bring back the shine of your interior leather surfaces.
These finishing touches will make your car seem like it is brand new, and the results will be worth the effort. Car detailing is an investment in your car, and it will be advantageous in the long run by increasing the resale value of your vehicle. Taking the time to do these minor details will help keep your car looking as good as when you initially purchased it. Therefore, if you want your car to look as exquisite as the day you bought it, make sure to invest in car detailing and use the highest quality products to get the job done.
Sources:
https://www.carfax.com/blog/what-is-car-detailing#:~:text=Keeping%20a%20car%20clean%20and,the%20owner's%20pride%20of%20ownership.
https://www.homedepot.com/c/ah/how-to-detail-a-car/9ba683603be9fa5395fab901790b13bb
https://www.mobiletechrx.com/resources/beginners-guide-professional-car-detailing/#:~:text=Professional%20car%20detailing%20is%20the,through%20to%20clean%20the%20exterior.